Self-Massage Care Pack for Staff Wellbeing
If there's one employee care package that most people would appreciate, this is it. Why? Because research shows that as many as 81% of the workforce suffer from muscular aches and pains. Unknotify©, a DIY massage toolkit by Aleyda Academy, is our answer to the rise in workplace-related musculoskeletal disorders (WMSDs) since the pandemic.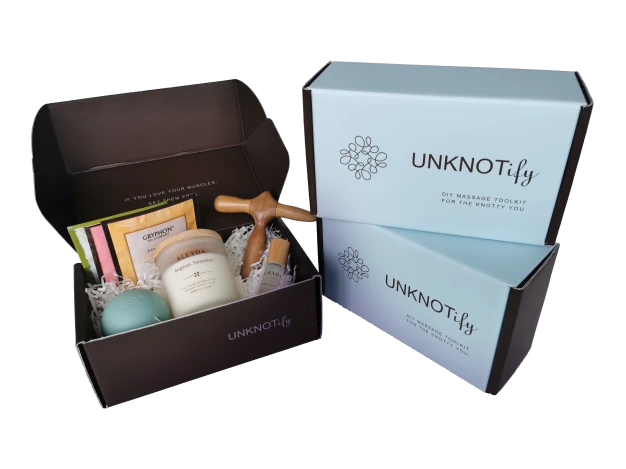 Known Facts about Musculoskeletal Pain
Musculoskeletal pain is widespread, affecting one in four daily.
Back pain is the most common complaint, followed by neck pain and shoulder pain.
Increased sedentary lifestyle due to remote working has led to the rise in work-related musculoskeletal disorders (WMSDs).
Pain is a taboo topic for many people, which deflates actual number of WMSD cases.
Not Just Any Employee Care Pack
Unknotify© is an evidence-based self-massage toolkit grounded on the science of Trigger Point Therapy. We simplify the technical knowhow and bundle it with massage tools so the user has everything needed to manage musculoskeletal pain in one care package.
Two-year access to an extensive video library on massage therapy
Soothing spa tea and candle for an all-immersive, relaxing experience
Who should get Unknotify?
The Human Resources manager looking for a care pack for staff wellbeing, benefits or perks.
Workers who spend prolonged periods sitting, standing, looking down or working with the hands.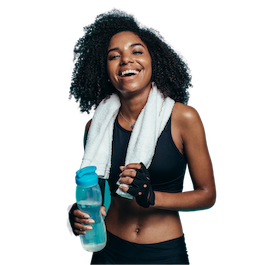 Manual labourers or the physically active, especially those with tight back, neck, shoulders and arms.
Corporate discounts available.
Pain Management with Aleyda Academy
Our team of experts in Aleyda Academy has been practising and researching on massage therapy to treat musculoskeletal pain since 2010. We work with corporate wellbeing teams to deliver employee care packages and training, thus enabling employees to free themselves from pain.
The biggest advantage of self-massage is that it allows a person to be in control of his pain, not the other way round. Research has shown that three in four of those in pain want to control their pain better and learn more about how to management their pain (GSK Global Pain Index, 2020). This Unknotify care package empowers employees to do just that.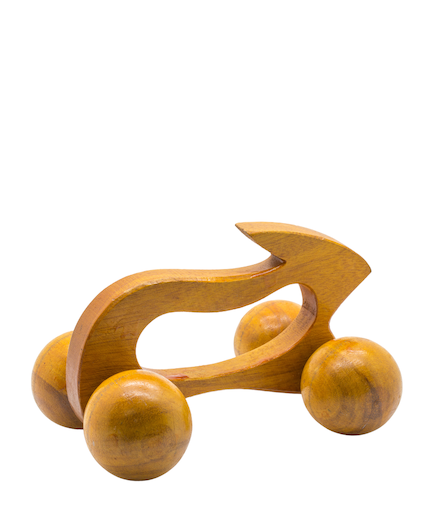 Frequently Asked Questions
How is Unknotify different from other wellness boxes in the market?
Unknotify is not just any wellness box of curated products. Its greatest value lie in the how-to videos that demonstrate the use of the massage aids for various muscular aches and pains. These educational resources have been thoughtfully put together by experts with more a decade of experience in therapeutic massage. Together with the tea and candle, Unknotify offers an all-round experience that is immersive, insightful and impactful.
Why should I consider Unknotify for my organisation?
Musculoskeletal disorders amongst desk workers is real and has staggering consequences on company morale and productivity. What's more, it was found in the U.K. that a whopping 89% of remote-workers who are in pain had not informed their employers. When used as directed, Unknotify helps employees understand and manage their muscular aches and pain. For the organisation, this translates to higher productivity and employee morale, as well as lower healthcare costs and absenteeism.
What are the self-massage video guides like?
Each video guide is a two- to five-minute demonstration on how to unknotify a particular muscle group using the massage aids provided in the box. The accompanying diagrams and explanations offer insight into poor postural habits, pain symptoms and musculoskeletal disorders commonly associated with that muscle group.
Who are the creators of Unknotify?
Unknotify is the brainchild of Aleyda Academy – a team of pain-management specialists comprising massage therapists, exercise specialists and ergonomists. This DIY massage toolkit is our response to the surge in work-related musculoskeletal disorders following the shift towards homeworking.
Our sister company, Aleyda Mobile Spa provides therapeutic massages in the convenience of anywhere.
Do you deliver worldwide?
Currently, we only deliver to locations within Singapore. Doorstep delivery is $6. If you are making a bulk purchase for a non-Singapore location, however, do contact us and we will work out a way to ship the boxes over.