"Good health IS good business" – Paul Drechsler, Chairman/CEO, Wates Group Limited
The average person will spend 90,000 hours at work over a lifetime. As an organization, employees should be your greatest asset. Apart from offering good work-life balance, investing in an employee wellness program makes good business sense. Employees benefit from better support for their health, and organisations from increased retention rates and productivity. Overall, it makes for a healthier and happier workplace.
So what is workplace wellness? Essentially it is any health-promotion activity, organizational practice or policy designed to support healthy behavior in the workplace. In its most holistic sense, workplace wellness should encompass physical, mental, spiritual, emotional, social and environmental elements of employee well-being. The goal? To reduce stress, increase engagement, and create a flourishing workplace environment. Although there is no one size fits all, variety is surely the spice of life!
Here are five ideas to jumpstart your employee wellness program!
1. Digital Wellness Workshops
Since the pandemic, corporate wellness workshops of all sorts have transitioned to the digital world. Such virtual, live wellness events allow the organisation to continue engaging employees as they work from home, cultivating a sense of community and culture of care.
Some of the emerging themes in corporate wellness are ergonomics, posture correction and pain management. Little wonder, since, according to the World Health Organisation, an estimated 1.71 billion people around the world suffer from musculoskeletal disorders (MSDs). Work-related MSDs are becoming highly prevalent with the rise of remote working and poor ergonomics at home.
Aleyda Academy is one corporate wellness training provider that addresses these very issues, both in the digital and physical formats. Developed by a team professional massage therapists and exercise specialists, their scientifically-based training programs impart skills for pain-free living.
2. Wellness Boxes & Care Packs
Care kit, care pack, wellness kit, wellness box… They come in different names and guises, but they all share a common denominator: a message of care! 
Spurred by the isolation and disconnect that comes with staying home during the pandemic, care packages have become a gift of choice. From the Covid essentials pack to the caffeine perk-me-up, there's a care kit for every need and occasion. Look out for those that offer personalisation or have items that the recipient can retain as keepsake. 
If you're looking beyond a package of curated wellness items, consider Unknotify – a DIY massage toolkit. Besides massage tools, this wellness box also provides access to a video library of mini-tutorials to help users unknot-ify their own muscles. It makes a thoughtful gift for desk-bound employees who experience chronic pains.
3. Wellness Wednesdays
It is believed motivation for employees is most required in the middle of the week, so let's get on the social media bandwagon with #WellnessWednesday!
This informal weekly occasion was started to remind people about the importance of positivity, mental health and wellbeing. Incorporating a day in a week for wellness is sure to lighten the mood and spread positive vibes! 
Since the pandemic and remote-working mandate, versatility in programs should be considered. By introducing virtual interest groups and activities such as yoga, HIIT or dance, employees are kept active and encourages a healthy lifestyle. Doing activities together as a group also increases motivation, improves camaraderie and reduces social isolation.
Not sure where to start? If you're in Singapore, check out SGFITFAM, a leading firm providing the some of the best online corporate wellness programs.
4. Mental Wellbeing
Stress is multi-factorial. It can arise from different situations and in different forms. Although the human body is designed to handle stress, in certain situations it can still cause one to feel overwhelmed.
As an organisation, creating awareness and providing support for mental health should be a part of your employee wellness program. Making options accessible to your employees gives them a safe space and makes them feel cared for and heard.
Health Hub Singapore's 'Its OKAY to reach out' is one such platform. Apart from self-care tips and tools for better mental well-being, it also allows users to connect with others and offer support.
5. Workplace Massages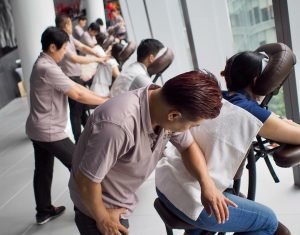 Corporate massage used to be associated with MICE events, tech giants and a generous staff benefits budget. Nowadays, following the steps of the best places to work, they are more normalised as part of staff well-being.
With the rise in workplace-related musculoskeletal disorders (MSDs), office massage certainly makes sense. An express 20-minute massage can help mitigate and prevent MSDs that come with reduced physical activity, prolonged sitting and bad posture.
So how do you select a corporate massage provider? Apart from price considerations and going through client references, it is important to choose one with an excellent track record, including a safety record. Bad massages can bring more harm than good.
Aleyda Mobile Spa is one such trusted name in Singapore. Established in 2010, its list of longstanding, loyal corporate clients includes Disney, Virgin Active, Bloomberg, INSEAD and PICO. It comes highly recommended and never had a safety breach.
We hope this blog has inspired you to take your staff wellness program to the next level. If you've benefited from reading it, do follow us on Insta and FB for our next read! Till then, stay safe!